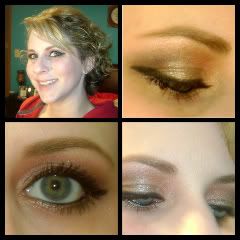 Today was a veryyy long day. After I got done with work, I decided what the hey, might as well play in my makeup. I am not loving the wings on my eyeliner. My darling son bumped me and I couldnt even them out the way I would've liked.
Face:
Bare Minerals Foundation in Fair
MAC Bone Beige/Emphasize Sculpt and Shape Duo
MAC Spaced Out and Springsheen blushes
Eyes:
MAC Rubenesque Paint Pot
MAC Satin Taupe, Haux, and Signed, Sealed e/s
CS 88 shimmer palette (orange and reddish orange colors)
MAC Coquette e/s for brows
MAC Beguile Brow Set
MAC Blacktrack f/l
MAC Feline e/k
Maybelline Lash Stiletto mascara
Lips:
Good ol' chapstick
*I realize the size of the pictures are kind of small. I will definitely need to remedy that next time.